Dynamo Travel Mobility Scooter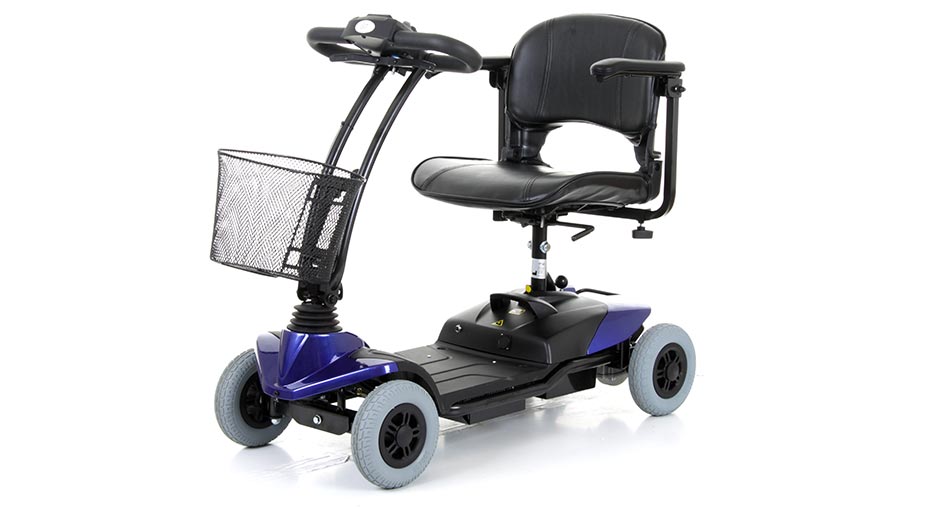 Maximum Speed
The Dynamo Mobility Scooter is capable of a top speed of 4mph. This scooter can be used on pavements  for shopping or transported easily for days out.

Maximum Range
The Dynamo Mobility Scooter can carry a passenger on  full charge up to 6 miles. The maximum distance does depend on the user weight and terrain you are travelling on.

Maximum Weight
The Dynamo is a robust mobility scooter with a maximum user weight of 18 stone. Easy to break down into manageable pieces for transport.
Dynamo Mobility Scooter
The Dynamo Mobility Scooter excels at travelling shorter distances, for instance popping down to the shops or going to visit friends and family. It is also excellent for taking with you on days out or on holiday as it can be broken down into 5 easy to manage pieces. Each piece is light in weight meaning that it can be placed in the boot of a car with minimal hassle.
Unlike many Mobility Scooters in the same range as the Dynamo it is fitted with a delta tiller bar. The innovated design of this type of tiller bar makes both operating the controls and steering the Mobility Scooter require a lot less effort, helpful if you suffer from aliments such as arthritis. Not only does this make driving the Dynamo Mobility Scooter safer but it also allows those with the use of only one hand to operate the Scooter.
Complete with off board charging the Dynamo Travel Mobility Scooter battery can be charged both on the scooter and off of it. This is useful as it means that your Travel Mobility Scooter can be left dismantled, such as when left in the car, while you charge the mobility scooter facilitating easier and more convenient charging.
3 Months FREE Insurance
Mobility Scooter Insurance is important to have in case you have an accident. All mobility scooters listed come with an 3 months FREE insurance from the date of delivery.
FREE Delivery
No hidden costs, delivery on all mobilty scooters is FREE. Items are delivered by courier, if you need the item carried up stairs you might consider the Engineered Delivery option.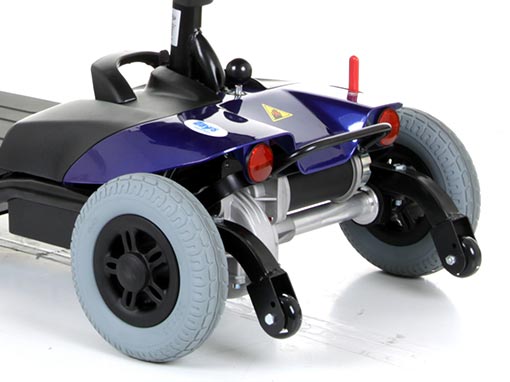 Easy to Dissasemble
The Dynamo Travel Mobility Scooter will easily break down into 5 manageable pieces making transporting your travel scooter very simple.
The Dynamo can be adjusted to fit you perfectly, ideal for taking on holiday on shopping. With adjustable tiller and height adjustable seat, the Airlite can be configured to your personal needs.
To add to the portability of the Dynamo travel scooter you have a handy shopping basket, puncture proof tyres and anti-rollback to ensure you are safe on your new scooter.
Dynamo Scooter Tiller
The Dynamo Mobility Scooter tiller is packed with easy to use controls.
From the tiller you can increase or lower the speed of your travel mobility scooter.
The Dynamo has an adjustable tiller allowing you to change the angle to a comfortable position.
The battery indicator and horn are controlled from the Dynamo Mobility scooter tiller.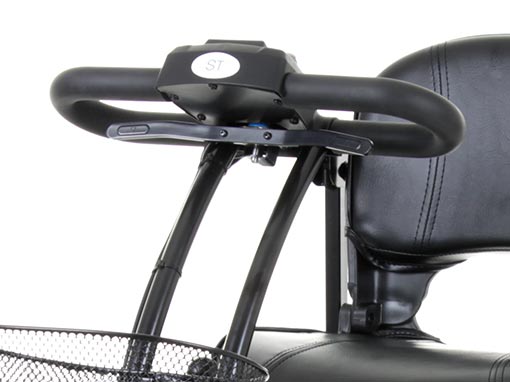 If you are interested in buying this product why not click the link for more details!
Would you like to hear more about this product?
If you'd like some help or advice please use our contact form below.
We'll get in touch as soon as possible.