Scootcase Travel Mobility Scooter

Maximum Speed
The Scootcase Mobility Scooter is capable of a top speed of 4mph. This scooter can be used on pavements  for shopping or transported easily for days out.

Maximum Range
The Scootcase Mobility Scooter can carry a passenger on  full charge up to 6 miles. The maximum distance does depend on the user weight and terrain you are travelling on.

Maximum Weight
The Scootcase is a robust mobility scooter with a maximum user weight of 16 stone. Comes complete with a convenient suitcase that the scooter can be stored in easily.
Scootcase Mobility Scooter
The Scootcase is designed to be the ultimate affordable and easy to setup travel scooter on the market today. The batteries are airplane safe and with the entire scooter weighing in at mere 22.6kg its light enough to take your mobility scooter with you and enjoy your holiday wherever you are. The suitcase weighs just 8.7kg bringing the total travel weight to just over 31kg to take with you.
The all new Scootcase comes with a FREE robust suitcase to easily fold away your Scootcase Travel Mobility Scooter for transport and sturdy protection. The compact design and super lightweight construction has not reduced the functionality or features of this scooter, the Scootcase Travel Mobility Scooter will carry a passenger weight of up to 16 stone up to 6 miles on a full charge, amazing given its compact size. Incredibly the Scootcase Travel Mobility Scooter has a motor size of 7.5 amps and 180 watts.
The pioneering design and technology that has gone into the Scootcase Travel Mobility Scooter has produced a ligtweight and great all round travel scooter which can be easily be taken on coach, train or plane to your holiday destination. Once you arrive at your holiday destiantion your Scootcase Travel Mobility Scooter is capable of whizzing you round at a top speed of 4mph.
3 Months FREE Insurance
Mobility Scooter Insurance is important to have in case you have an accident. All mobility scooters listed come with an 3 months FREE insurance from the date of delivery.
FREE Delivery
No hidden costs, delivery on all mobilty scooters is FREE. Items are delivered by courier, if you need the item carried up stairs you might consider the Engineered Delivery option.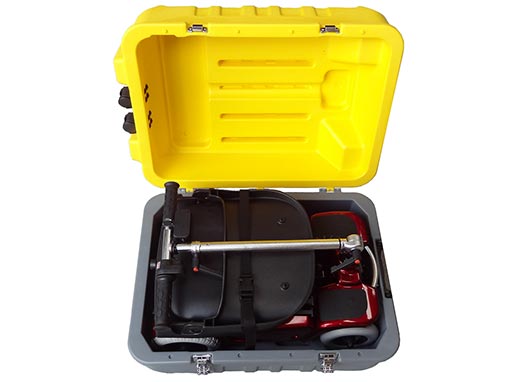 Easy to Fold Down
The Scootcase Mobility Scooter tiller can be folded down in seconds allowing it to be stored in the handy suitcase included with the scooter.
This makes the Scootcase ideal for taking with you on days out or on holidays as it can be stored comfortably in the car or in the hold of the plane.
Scootcase Scooter Tiller
The Scootcase travel mobility scooter tiller is packed with easy to use controls.
From the tiller you can increase or lower the speed of your mobility scooter.
The Scootcase has an adjustable tiller allowing you to change the angle to a comfortable position.
The battery indicator is also located on the tiller where you can also access the handy shopping basket.
If you are interested in buying this product why not click the link for more details!
Would you like to hear more about this product?
If you'd like some help or advice please use our contact form below.
We'll get in touch as soon as possible.