Zoom Plus Travel Mobility Scooter

Maximum Speed
The Zoom Mobility Scooter is capable of a top speed of 4mph. This scooter is best suited for use on the pavement when travelling to the shops or visiting friends and family.

Maximum Range
The Zoom Mobility Scooter can carry a passenger on  full charge up to 15 miles. The maximum distance does depend on the user weight and terrain you are travelling on.

Maximum Weight
The Zoom is a robust mobility scooter with a maximum user weight of 18 stone.
CareCo Zoom Plus Mobility Scooter
The key improvement of the CareCo Zoom Plus Travel Mobility Scooter is that it now has an increased range of 14 miles thanks to a larger 20 A/H battery letting you go even further. This extra battery life makes the CareCo Zoom perfect for taking with you on days out or even on holiday. The CareCo Zoom Plus Travel Mobility Scooter also can carry a maximum user weight of 20 stone.
Complete with a delta tiller bar the CareCo Zoom Plus Travel Mobility Scooter will aid those with limited strength in their hands and can be used by those with the use of just one hand. This type of tiller bar will also give the user of the mobility scooter greater control over their scooter and making steering easier.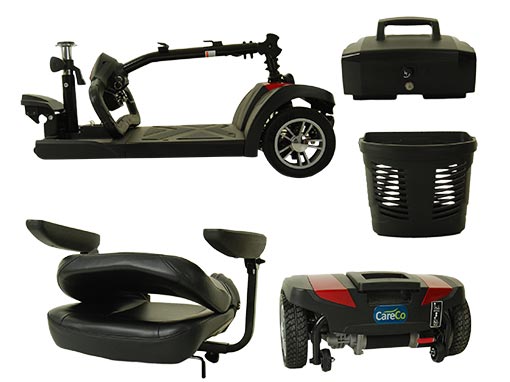 Transportable Mobility Scooter
The Zoom Plus can be broken down into 5 separate and easy to manage pieces.
This makes the mobility scooter easier to store and put in the boot of the car. Excellent for days out or taking with you on holiday.
Comfort as Standard
The Zoom travel mobility scooter tiller is packed with easy to use controls.
From the tiller you can increase or lower the speed of your mobility scooter.
The Zoom Plus has an adjustable tiller allowing you to change the angle to a comfortable position.
The battery indicator is also located on the tiller where you can also access the handy shopping basket.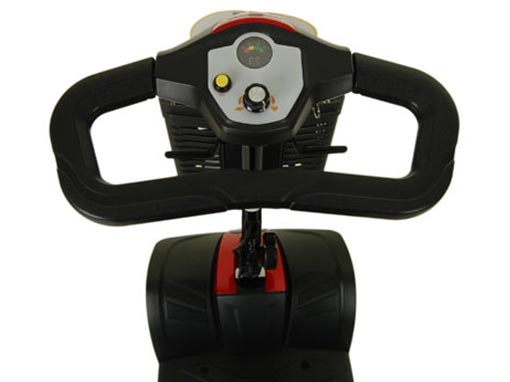 If you are interested in buying this product why not click the link for more details!
Would you like to hear more about this product?
If you'd like some help or advice please use our contact form below.
We'll get in touch as soon as possible.